Sage 50 Complete Accounting 2014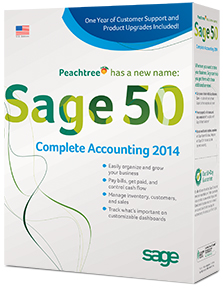 Summary: In addition to everything in Sage 50 Pro, Sage 50 Complete offers single-user, 3-user, or 5-versions. The Customer, Vendor, & Inventory Management Centers make it faster and easier to locate information without running reports. Complete also adds phases and cost codes to the Job Cost module and throws in FAS for tracking fixed assets and depreciation.

Modules Included: General Ledger, Accounts Receivable, Accounts Payable, Bank Reconciliation, Inventory, Sales Order, Purchase Order, Job Cost, Fixed Assets, and Payroll (requires purchase of a Sage Business Care Gold plan or Platinum plan). Sage Business Intelligence is available as an add-on or is included with a Business Care subscription.

Modules Not included: Crystal Reports

Features:
Multiple Users

- Sage 50 Complete can be purchased as a single user, 3-user, or 5-user product. The multi-user versions cost less than the equivalent number of single user licenses would. Licensing is based on named users, not concurrent users or seats.

Security

- To provide the control needed with multiple users, Sage 50 Complete lets you set access levels of None, View Only, Add, Edit, or Full, for each screen for each user. If you have more than one company, permissions are set independently in each company.

10 Price Levels

- increased from 5 in Sage 50 Pro.

Pricing Formulas

- Formulas can be set up by price level for inventory items to streamline the process of recalculating prices. This allows you to recalculate prices for all or part of your inventory with just a few clicks; it does not mean that prices will automatically adjust any time your cost changes.

Master and Sub-stock Items

- Automates the process of creating related inventory items with up to 2 attributes, such as a shirt that comes in different sized and colors.

Outlook Sync

- Customer, Vendor, and Employee information in Sage 50 Complete can be synchronized with your Outlook contacts so that you only have to enter information once to keep both up to date.

Time Card Entry for Payroll

- In Sage 50 Complete, you can enter time card information which will flow in to payroll. That way you don't have to manually add up time cards so that you can put the total in Payroll Entry.

Time and Expense Tickets

- In addition to feeding payroll, time tickets can also be used to bill clients for time. Expense tickets make it easy to bill for miscellaneous items such as photocopies that might otherwise be forgotten.

Fixed Asset Tracking

- Complete comes bundled with FAS for Sage 50. It can calculate depreciation for up to 200 assets and post the depreciation entry directly to Peachtree's general ledger. FAS can be upgraded if you need more than 200 assets.

Better Job Costing

- Jobs can be divided into phases and phases can be broken down in to cost codes for more detailed job reporting.

Select For Purchase Order

- lets you select all or a range of inventory items for Sage 50 to evaluate and generate purchase orders based on inventory levels.

Customer Management Center

- is a customizable screen that gives you easy access to your customer data. There are 19 areas of information that you can show, hide, or rearrange to fit your needs. Examples include Aged Receivables, Contacts, Sales Orders, Invoices, Item Sales History, and Top Customers over the last 12 months.

I

nventory & Services Management Center

- Quickly shows you status and transactions for a selected inventory item (stock or non-stock). It is customizable with 22 different modules including, Sales Invoices, Purchases, Inventory Adjustment, and Sales Backorders. It can also be set up to show build and unbuild transactions for assembly items, as well as the bill of materials. And for any item, you can see a list of assemblies that use it as a component.
Expanded employee information

- Fields in the employee maintenance screen provide space for emergency contact information, EEO data, and more. There is also a function to track employee review history and next review date.

Item History By Customer

- is a new customizable list that will show sales of all items or a selected item. It can be any column in the list, including item, customer, or date. You can double click entries to view the original transaction. You can also print the list, email it, or send it to Excel.

Open Multiple Companies

- You can now have multiple companies open at the same time in Sage 50 Complete and higher. In all companies opened after the first company some features will be restricted, although most routine data entry and reporting functions are not affected.

Click here for a list of features that are restricted.

Vendor Management Center

- is a customizable screen that gives you easy access to your vendor data. There are 14 modules that you can show, hide, or rearrange to fit your needs including Aged Payables, Item Purchase History, Payments, and Purchases/Inventory Received.

Sage 50 Intelligence Reporting

- turns Excel into a custom report writer for Sage 50. You design report templates in Excel and use Sage 50 Intelligence to supply the raw Sage 50 data to feed your report. Several pre-built reports come with Sage 50 Intelligence Reporting including Sales Analysis, Purchases Analysis, Inventory Analysis, a Dashboard, and multiple balance sheet and income statement formats. Custom reports can be written from scratch or you can copy and modify any existing report. A single user license for Sage Business Intelligence is included with a new purchase of Sage 50 Complete or higher or with a Sage Business Care subscription.
Note:
Sage 50 Complete Accounting (formerly Peachtree) was eliminated from the Sage 50 product lineup with the release of version 2015. Complete users upgrading to the current version will be moved up to Sage 50 Premium.
This product information has been left available for reference only.