Sage 50 Distribution Accounting 2014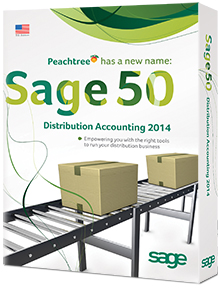 Summary: There are only a handful of differences between Premium and Distribution, but they are definitely significant. For many users, the addition of unit of measure conversions and bill of material revisions allow them to stay on Sage 50 instead of having to upgrade to much more expensive software.



Features Gained:
Quantity Discounts

- you can set up as many different discount tables as you want. And within each one you can have up to 5 different quantity breaks. Quantity discounts get assigned to items (not customers) and can work in conjunction with price levels.

Work Tickets

- Basically this provides a very simple version of a work order to help track the production of assembly items.

Multipacks/UOM Conversions

- Each inventory item can be assigned a stocking unit of measure, purchase UOM, and selling UOM. That allows you to, for example, purchase an item by the case but sell it as each.

Ability to revise Bill Of Material

- Assembly items have a bill of materials attached to them so that Sage 50 knows which components make up the finished good. In the lower versions of Sage 50, that BOM is set in stone. But in Premium for Distribution, you can create a revised BOM with an effective date. Any assembly transactions on or after that date will use the new BOM.

Specialized Crystal Reports

-

see table for list of reports
Note:
Sage 50 Distribution Accounting (formerly Peachtree) was eliminated from the Sage 50 product lineup with the release of version 2015. Distribution users upgrading to the current version will be moved up to Sage 50 Quantum.
This product information has been left available for reference only.